The model was validated by a double-blind peer review and presented at a scientific conference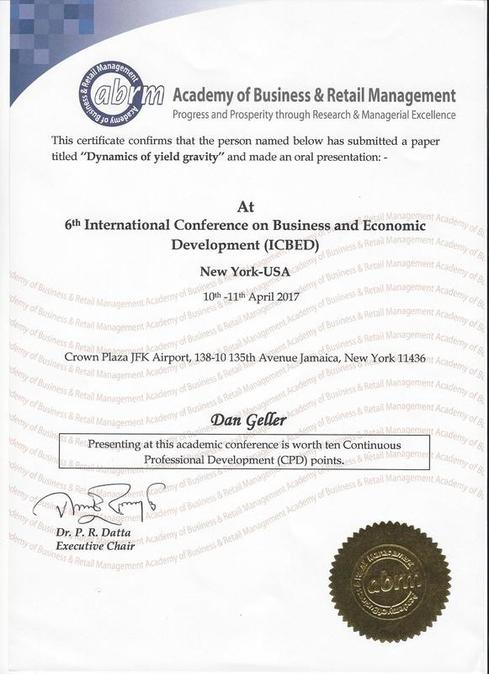 A new scientific study, "Dynamics of Yield Gravity," shows that the ability of yield to attract money is dynamic rather than static. This means that the same yield, for the same product and in the same competitive environment, can attract balances at one time and not so much on another time.

Dr. Dan Geller presented the Dynamics of Yield gravity at the International Conference on Business and Economic Development in New York (See certificate).

The far reaching implications of this study are that rates and balances of deposits do not operate in a vacuum, and they are greatly impacted by behavioral economics factors. Here are the two main areas affected by this finding:

Implications on interest expense
Problem: Financial institutions tend to misprice deposits because they do not incorporate behavioral economics factor when forecasting and pricing their deposits.
Solution: Deposit pricing models should include behavioral economics factors to ensure that interest rates are optimal for the economic environment. Otherwise, unnecessary interest expense can put the financial institutions at risk of low net interest margins.

Implications on term liquidity
Problem: Diminishing yield gravity during economic slowdown will prevent financial institutions from complying with Basal III Net Stable Funding Ratio (NSFR) requirement of one-year liquidity.
Solution: Financial institutions can't rely on yield alone to attract term liquidity during economic slowdown (high money anxiety). Product features and other non-yield incentives should be used instead.
---