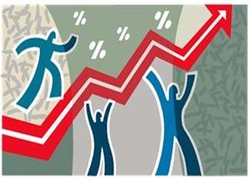 The economy is like an ocean with varying sizes of waves.
Behavioral economics are economic "waves" caused by financial uncertainty and anxiety. Bankers who understand this principle know how to ride these behavioral economics waves to improve their financial performance.
Scientific studies
show that there is an inverse relation between the level of financial stress and anxiety and the sensitivity of people to interest rates of liquid deposit accounts.
Specifically, the analysis shows that during such times, people are five times less sensitive to interest rates of savings and money market accounts than they are to interest rates of CDs.
This phenomenon provides bankers an opportunity to "ride" the current behavioral economics wave to reduce interest expense on liquid accounts.
Most liquid balances today are made up of hoarded money in response to behavioral economics factors.
Bankers should distinguish between rates on hoarded money vs. rates on hot money by establishing an optimal pricing position for the base product (retention of hoarded money) separate from a high-yield rate geared towards acquisition of new money (hot money).
The only way to establish an
optimal pricing position
for your base and your high-yield rates is to use Deposits Dynamics, which incorporates behavioral economics as a mediating factor in its model.
Deposits Dynamics was designed to identify and capture the direction and severity of the behavioral economics waves so that you can ride them nice and high.