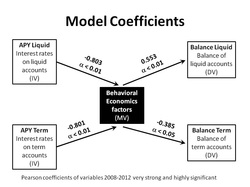 Scientific validation of any model used for forecasting and pricing of deposits is done only with statistical coefficients. Charts, graphs and nice pictures make for fine art, but it is not scientific validation.

Forecasting and pricing deposits consist of three types of variables. Rates are the independent variable, balances are the dependent variable and most importantly, behavioral economics is the mediating variable. The mediating variable is the most critical factor in the model because it represents the way consumers respond to rates and types of deposits based on economic conditions.

For example, let's examine the Deposits Dynamics model (above), which shows the Pearson coefficients of the relations between these three variables for the time period of 2008-2012. Each arrow represents relations between the variables with two figures; Beta is in bold and Alpha below it. In a nut shell, the bolded figure (Beta) represents the strength of the relations. The closer the coefficient to 1.0, the stronger the relations. The figure below it (Alpha) represents the significance of the relations; the closer the figure to 0.0, the higher the significance of the relations between the variables.

As you can see from the model coefficients, the relation between rates and balances of liquid accounts is inverse mostly due to the mediation effect of behavioral economics factors. This means that rates, in and of themselves, are not a major factor in the increase of balances of liquid accounts – behavioral economics mediates that. Conversely, rates and balances of term accounts have tandem relations, meaning they are both decreasing in tandem, and behavioral economics factors mediate this decline.

There are two main take away from this illustration. The first is that any forecasting and pricing model of deposits that does not incorporate behavioral economics as a mediating variable is likely to produce erroneous results. More importantly, the mediating variable MUST be independent of rates and therefore, the Fed funds rate, LIBOR, or T-bills rates are NOT independent of deposit rates and should not be used for mediation.

The second takeaway is that any claim of "scientific" approach to forecasting and pricing of deposits must past the litmus test of statistical coefficients. Only statistical coefficients can validate the strength and significance of the relations between the variables, and additional test can be done to validate that the outcome is not due to random occurrence, and the impact of mediation.

I hope that this information is helpful to you in distinguishing real science from artistic representation of "science." As always, if you would like to discuss this issue further, feel free to contact me directly.