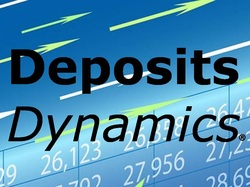 I am going to present this concept to you a little differently from the "conventional" thinking, about deposits because, I believe, it will make scenes to you. If you adapt to this way of thinking about forecasting and pricing of deposits, you will be able to make an impact on the profitability of your institution.

The basic concept of banking is very simple – buy low, sell high. Everything else is just details. We buy money in the form of deposits, and we sell the money, leveraged of course, in the form of loans. The difference between the price we buy deposits and the price we sell loans is our profit.

Now let's view deposits like traders do – a desired commodity that is subject to the supply and demand forces of the economy. When supply is in abundance, a trader will strive to pay the lowest possible price to buy the commodity. Conversely, when supply is limited, a trader will have to pay higher prices for the same commodity if he or she believes there will be greater demand in the future.

Bankers are de facto traders. We buy and sell money based on what we believe will be needed in the market place in the forms of loan demand. Since we need money to fund lending, we buy money in the open market, in the form of deposits, to resell as loans. However, in reality, we don't think like traders, which is why we end up making less profit on our trades mostly because we pay more than we should for the money we buy in the form of interest rates on deposits.

Bankers can easily increase profitability if they think more like traders in two critical areas. The first is the concept of future demand, and the second is the concept of economic intervention. Next, I will describe these two concepts in more details, so you can start applying these methods in your own institution.

Future Demand

Bankers price deposits mostly by reviewing their competitive survey and decide on a price they feel is appropriate for their needs. The problem with this approach is that the pricing decision is made based on current information and not based on future demand for each of the products. When a trader evaluates a price, they think forward – what will the demand for this commodity be down the road, not today.

In other words, traders price forward by forecasting future demand. Bankers should do the same when pricing deposit products. The pricing position for each deposit product needs to reflect forecasted demand for the product so that the price will reflect future demand. In Deposits Dynamics, we provide a 30 to 90 days forecast for each deposit products and the recommended pricing position is based on that forecast.

Economic intervention

The reason we have supply and demand of anything is because of economic intervention. This means that changes in the economic environment impact the needs of people, and as a result, they either need more of something or less of the other. When traders decide on a price they are willing to pay for a commodity, this price already contains within it economic intervention – i.e. changes in the economic environment that will make a commodity more or less desirable.

Bankers need to follow the same process of incorporating the economic environment in to their pricing decisions. Merely analyzing deposit rates and balances in order to establish a price is insufficient because rates and balances do not operate in a vacuum – they are always subjected to economic intervention. The relasticity factor and pricing position analysis we provide already contains the impact of the economic environment on demand for each deposit product because we use behavioral economics as an intervening variable in our pricing model.

In summary, bankers can increase profitability just by thinking like traders when it comes to forecasting and pricing. The two most critical questions to ask are: 1) what should the pricing position of this product be to match tomorrow's demand? 2) How are changes in the economic environment going to impact demand for deposit products? Even the slightest improvement in your interest expense due to these practices will make your institution more profitable because profit margins are so tight now days.