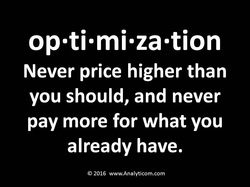 Expect a very long and tedious road ahead for interest rates. Your best strategy in the face of rate stagnation is to price optimally and hold the line.

Yesterday's decision by the Federal Open Market Committee (FOMC) to leave the federal funds target rate unchanged and to cut the median pace of rate hikes for the next three years is a red flag about rate stagnation due to domestic and global economic uncertainty.

Although the unemployment rate in the U.S. has improved, the reality is that many people are still anxious about the economy and are not spending as much as they could. As a result, February retail sales dropped 0.1 percent and January was revised downward to a 0.4 percent decline reflecting consumers' economic uncertainty since the beginning of this year.

For you it means that rates are not going to rise very fast nor very soon. Therefore, it is critical that you control your interest expense by optimizing the rates of your deposit products. If you want to "survive" the long road ahead, just follow this simple and basic rule of pricing:

Never price higher than you should, and never pay more for deposits you already have.