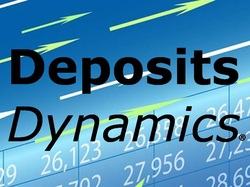 A well established scientific theory called "Anchoring" suggests that people tend to overestimate when given a higher reference number (i.e. anchor number), and under estimate when given a lower reference number.
The anchoring bias theory was developed by Nobel laureate Daniel Kahneman and Amos Tversky as part of their study on psychological heuristic that influences the way people intuitively assess probabilities and values.
In a notable experiment conducted by behavioral economist Dan Ariely, people were asked to write the last two digits of their social security number and then estimate the price of items whose value they did not know. The result - people with higher two-digit numbers submitted bids that were between 60 percent and 120 percent higher than those with the lower social security numbers, which had become their anchor
Bankers are subjected to anchoring bias when pricing deposits because they focus on one or two "primary" competitors in their market.
Even when the competitive set contains 10 to 15 competitors, bankers tend to focus one or two competitors they consider primary.
If the primary competitor is priced high, bankers are very likely to price their products higher than they should, and conversely when the major competitor is priced too low.
To overcome the anchoring bias, bankers should avoid following the prices of individual competitors, and instead, calculate their optimal pricing position based on the entire competitive set of 10 to 15 institutions.
By doing so, bankers arrive at the optimal pricing position for their products with no bias or influence by individual competitors.
The quickest and easiest way to optimize deposit rates objectively is to use the
Pricing Position method
.
Pricing Position is a scientific price-optimization methodology you can do yourself with no special software and with no prior experience.
Each monthly Deposits Dynamics report contains all the information you need to optimize your deposit products for that month.