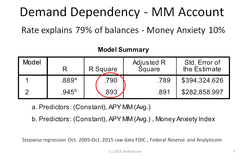 What if your liquidity level comes in 10% below your forecast? What if your interest expense comes in 10% above budget? Find out the cause and what to do about it.

It's a scientific fact that financial behavior impacts product demand independently of rates alone. But how do you measure consumer financial behavior? Moreover, how do you incorporate it into the forecasting model to increase the accuracy of the projection?

With advanced statistical analysis and a financial behavior predictor, you can clearly see the impact consumer financial behavior has on balances of various deposits accounts

For example (see image), the analysis shows that balances of MM accounts are driven 79% by rate alone and 10% by consumer financial behavior. This means that if you forecast balances of MM accounts without the consumer financial behavior predictor, your forecast is going to miss the mark by 10% or more.

Scientific research in behavioral finances shows that consumers change their financial decisions on deposits in a predictable manner based on the state of the economy. Therefore, it is critical to include consumer financial behavior as a predictor in any forecasting and pricing model. For example, changes in economic conditions will cause consumers to shift funds from term to liquid accounts in complete disregard to yield.

To avoid missing the mark in your deposit forecasting, the model must be based on scientific and empirical principles. A reliable forecast must contain two critical research elements to ensure the validity of the outcome. The fist is the inclusion of behavioral finance as a predictor in the forecasting model, and the second is the expansion of the sample size to increase the reliability of the observations.